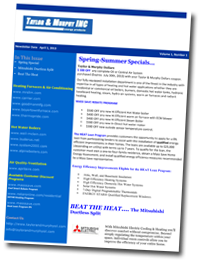 Welcome to Taylor & Murphy's newsletter! Check back often for the latest issue, where you can learn more about the products and services that we offer.
This Issue....
Spring Summer Specials
BEAT THE HEAT.... The Mitsubishi Ductless Mini-Split
Cool Smart Program
Beat The Heat with your Central Air Tune-up
Plumbing Division
Click here to download the PDF file
Past Issues
Please note: you must have pop-ups enabled to view/download our newsletter.