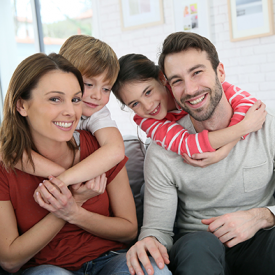 Taylor & Murphy offers a full range of air conditioning services, including installations, upgrades, preventive maintenance, repairs and service contracts. If you currently have no central air conditioning, we can make your home more comfortable and attractive with a new central air system.

We specialize in high-efficiency systems, which can reduce energy consumption by up to 30%. Air conditioning has come a long way in recent years, and today's best systems cool more effectively than older systems while also taking up less space and generating less noise. Today's units also contain environmentally friendly R410A refrigerant. Taylor & Murphy represents some of the best names in the business, and we can help you choose a system that suits your home and your budget.
Air Conditioning Service Plans
Taylor & Murphy provides expert service, supported by advanced diagnostic equipment that helps us detect problems early and tune your system precisely. We also offer two cooling service plans - parts and labor or parts only. Both plans include annual maintenance and inspection, as well as replacement coverage for major cooling system components.

A central air conditioning system can also work hand-in-hand with an indoor air quality system to remove impurities and make your home more comfortable and clean.
Air Conditioning Equipment
We sell, install and service all major brands of residential and commercial central air conditioners, including the newest ductless mini-split systems, which allow you to cool your home without ductwork.
We are a Mitsubishi Factory-Authorized Contractor!
As a Mitsubishi Factory-Authorized Contractor, Taylor & Murphy has proven its experience with Mitsubishi Ductless Mini-Splits. We are well equipped to assess your heating and cooling needs as well as your budget to find your best home comfort options. Our technicians receive regular training at the manufacturer's factories to install and maintain your heating and cooling equipment to deliver optimal comfort and efficiency.
Comfort on Demand with Mitsubishi Electric's Zoned Comfort Solutions
Mitsubishi Ductless Mini-Split Systems
No ductwork? No problem! Mitsubishi's electric ductless min-split air conditioning systems are an efficient and cost-effective way to control the temperatures throughout your home. Whether you're looking for a heating or air conditioning solution, a ductless mini-split system has you covered because it is able to provide both.
Replace those old wall and window air conditioning units with a Mitsubishi Ductless Mini-Split System!
Benefits of a Mitsubishi Ductless Mini-Split System:
Air Quality
Advanced multi-stage filtration and deodorizing filters keep your indoor air clean and healthy.
Efficiency
Zone-by-zone control and inverter compressor technology makes these systems up to 40% more efficient than conventional HVAC equipment. Many of Mitsubishi's ductless mini-split systems are also ENERGY STAR®-qualified!
Hyper Heating
No matter how cold it gets outside, ductless mini-splits are designed to provide comfortable indoor temperatures quickly and with minimal energy consumption.
Whisper Quiet
Designed for quiet operation, Mitsubishi's ductless mini-split systems provide a peaceful way to manage indoor temperatures with insulated compressor compartments, vibration dampeners and no noisy fans.
Smart Controls
Remotely adjust your settings so every room in your home is the perfect temperature, and link up to 16 devices for even more precise control no matter what room you're in.
Constant Comfort
Systems adjust automatically to keep the rooms in your home comfortable with zoned monitoring and advanced INVERTER technology.
Mass Save Rebates
Through the Mass Save® rebate program, homeowners can earn rebates when purchasing and installing a whole-home ductless system that displaces oil, propane and/or electric. Rebate amounts vary based on the equipment installed. Call or contact us online for further details!
Financing Available Through Mass Save
The Mass Save® HEAT Loan offers interest-free financing opportunities up to $25,000 for energy-efficient home upgrades such as heating and water heating equipment, central A/C and heat pumps, insulation and more. Give us a call to learn more.
* Disclaimer: Utility rebate amounts vary by location and product model. Contact us for more details.Qualifying system must be purchased by a homeowner in residential, owner-occupied properties and installed by March 31, 2021 or until utility rebate funding is no longer available. Arlmont is not responsible for the rebate or program management. Rebates are subject to change.